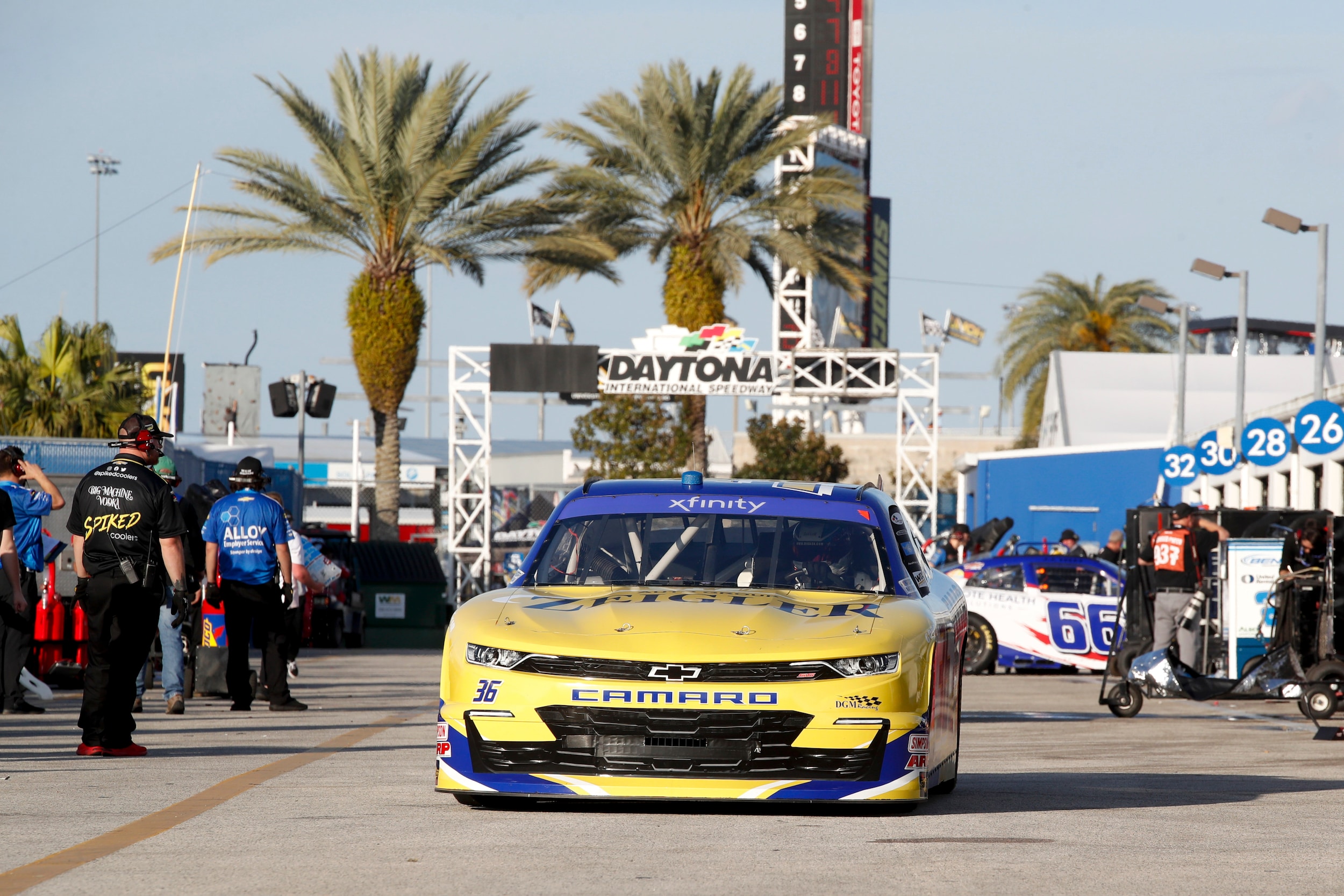 Josh Bilicki and Team Zeigler Race to Top-10 Finish at Daytona
Josh Bilicki, No. 36, broke the top 10 at Daytona this past weekend behind the wheel of the Zeigler Auto Group sponsored Chevrolet Camaro for DGM Racing. Finishing at an impressive ninth place, a career best, Bilicki delivered a top performance during the 2022 NASCAR season opener at the historic Daytona International Speedway, capturing plenty of attention for TEAM ZEIGLER and DGM Racing.

DAYTONA (February 21, 2022) – Josh Bilicki and Zeigler Auto Group Kicked off the 2022 NASCAR season with an impressive ninth place finish at the historic Daytona International Speedway on Saturday, February 19th. The result did not come easy, as the Zeigler Auto Group sponsored driver faced adversity throughout the race weekend.
Bilicki, who drove the No. 36 Chevrolet Camaro for DGM Racing in Saturday's NASCAR Xfinity Series race, qualified 31st of 47 drivers. Although this was further back than he would have liked, this was enough to lock Bilicki into the very competitive field of 38 drivers who would start the race on Saturday evening.
Making the best of the situation, starting in 31st position actually played into Bilicki and DGM Racing's strategy to keep their Chevrolet Camaro clean during the first stage. After a relatively quiet stage one, Bilicki quickly worked his way to through the field at the start of stage two and found himself in the lead drafting pack of roughly twenty cars. Bilicki ultimately finished stage two right outside to the top-ten, positioning himself in a great spot to start the third and final stage.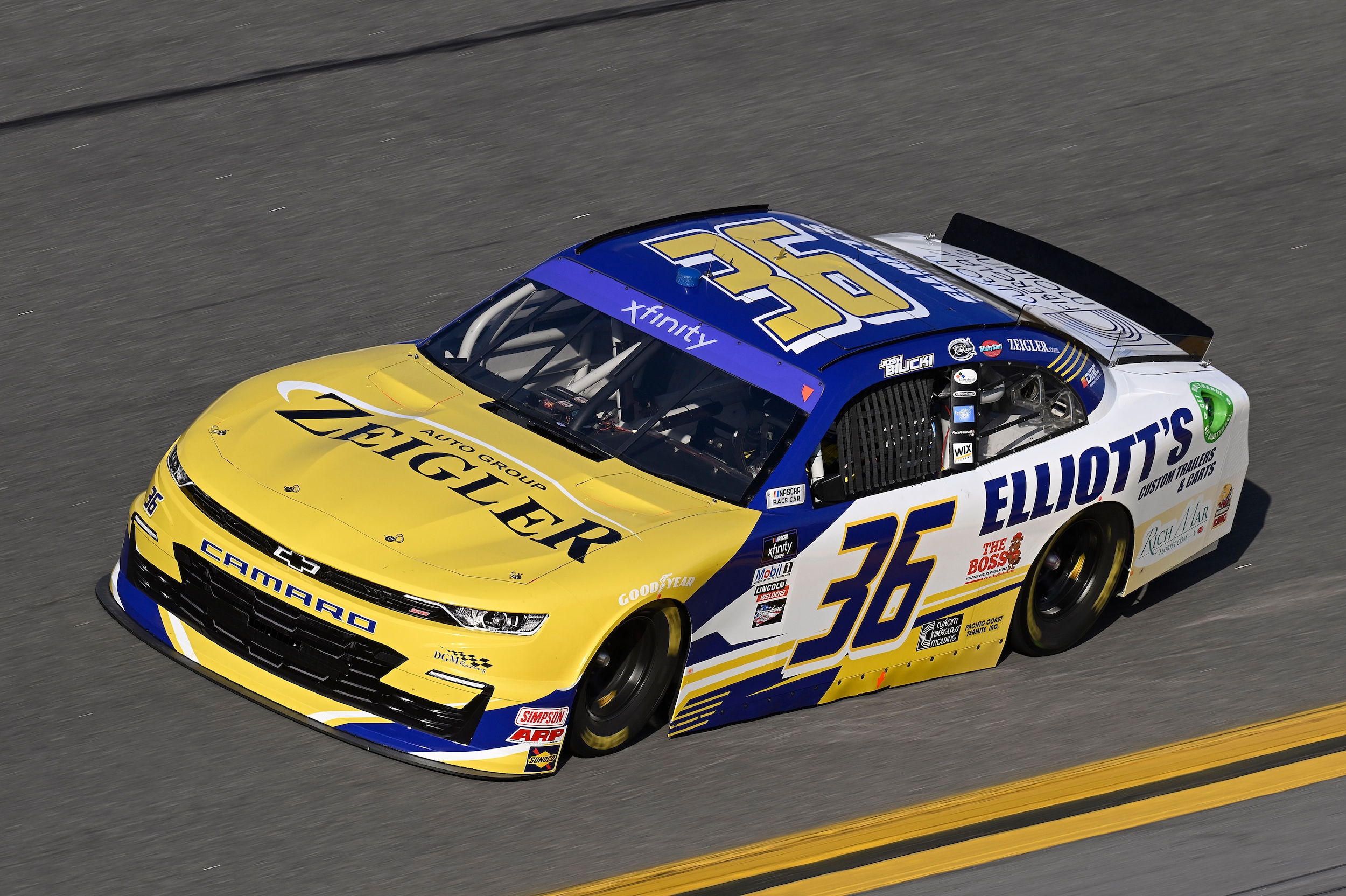 "Leading laps was a lot of fun and a ninth-place finish for Team Zeigler was a great way to kick off the new season!"
As the field took the green flag to begin stage three, Bilicki held his ground inside of the top fifteen. As different teams and drivers executed different fuel strategies, Bilicki and his Zeigler Auto Group sponsored No. 36 Camaro fought to the lead of the race and held the lead for nearly ten laps until the yellow flag came out with roughly twenty-five laps left. After a quick pit for fuel, Bilicki restarted the race just outside of the top fifteen. With just ten laps to go, Bilicki once again found himself in the lead pack, position himself for a potential great finish.
After taking the white flag, Bilicki found himself in the middle of a large accident on the back straightaway of Daytona International Speedway. Contact from a driver in front of Bilicki spun the No. 31 car of Myatt Snider into the outside wall. Snider's Chevrolet Camaro would collect several other cars and ultimately go airborne, flipping end over and into the catch fence.
Fortunately, no one was injured in the massive wreck. Bilicki was able to get through the wreck with minimal damage and finish the race in ninth position, a career best for Bilicki in NASCAR competition.
"First and foremost, I want to say thank I am so thankful my buddy Myatt Snider is okay after that massive accident," said Bilicki. "I truly thought he was going to land on top of us, so it was a bit scary. DGM Racing gave me an incredible car, definitely the best car I've ever had on a superspeedway. Although we qualified further back than we would have all liked, I feel like we did a great job of managing this race. Leading laps was a lot of fun and a ninth-place finish for Team Zeigler was a great way to kick off the new season!"